Innovative Material
ICK ContactLens has researched and developed ICK-Polymacon as an innovative material to produce hydrophilic contact lenses that are less irritating to your eyes.
ICK-Polymacon keeps your eyes moist and prevents dry eyes with comfort even when you wear your contacts for a long time.
Moisturizing Effect Test
OPTIMUS(ICK-Polymacon) / Existing contact lens (Polymacon)
※ As a result of an 8-hour moisture test, OPTIMUS (ICK-Polymacon) maintains more than 95% of the moisture.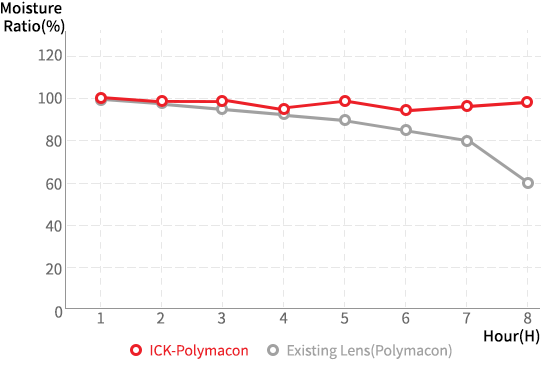 Double Coating Printing(DCP) Method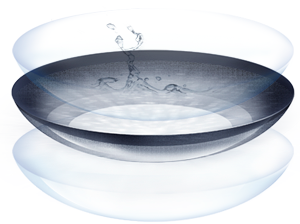 ICK Contact Lens manufactures safe contact lenses that do not put a strain on your eyes due to the double coating printing (DCP) method,
which prints pigment between lens materials, keeps the pigment from touching your eyeballs or being decolored,
and makes the surface of the lens even.
Multi-curve Design that Provides Clear Vision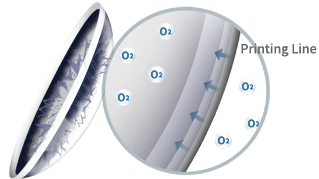 ICK ContactLens' multi-curve design minimizes aberration (a phenomenon in which an image is out of focus) so you can see objects more clearly and sharply.
You'll get a clearer view from your lenses than any lenses you've ever worn.
Soft Edge Design
ICK ContactLens designs contact lenses with TrueEyeEdge, which reduces the angle of the part contacting the eye to provide a comfortable fit at all times.
The ergonomically designed soft and thin edge design reduces eyestrain by minimizing friction in the cornea.